Author Bio - Donna Vincent Roa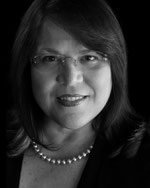 Donna Vincent Roa is Managing Partner & Chief Strategist for Vincent Roa Group LLC, a Maryland-based firm specializing in communication to improve the earth and its people™ − science, environment, sustainability, water, energy, technology, and public health communication. She is also known as: Who the CEO Calls™
IABC-Accredited Communicator
An IABC-accredited business communicator, Donna is a business process expert who builds best-in-class communication portfolios for government agencies, corporate clients and international organizations. Previously, she was Public Affairs Director and Director of Science Communication at the US Environmental Protection Agency.

Global Communication Expertise

A former United Nations senior communication officer and water sector communication consultant for the World Bank and UNICEF, she was the keynote speaker at the first class of graduating social marketers in Cajamarca, Peru. She was also one of ten US Treasury Department-designated researchers to conduct research to support the first redesign of the $100 bill.
Passionate Volunteer
She is past president of the largest US chapter of the International
Association of Business Communicators, has a Ph.D. in
Communication from the University of Southern Mississippi, was a
Rotary Scholar, and is a former Environment Commissioner for the
City of Rockville.
Risk-Taker and Loves Being in Front of the Camera
On a recent 1.5 year sabbatical to Hollywood, she could be found doing stand-up comedy, acting in films, writing screenplays, promoting her short film that premiered at the Cannes Film Festival, and walking her two children to elementary school.
Cajun and South Louisiana Heritage
A native of Lake Charles, Louisiana and a former country and western disc jockey at KLCL radio station, she lives in Rockville, MD, with her husband, Victor, her children, Alex and Gretchen, and a rescue Chihuahua Shih Tzu, named Max. 
Started Journalism Career Writing Obituaries
Early in her career as a cub reporter, she wrote obituary notices, stories about ship wrecks, and coverage of the City Council meetings (there is definitely a theme here!) for the Beaumont Enterprise newspaper's Lake Charles, Louisiana Bureau.