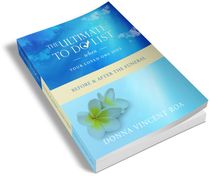 Recently, I got a review from a progressive publishing house. I thought it would be useful for you to see it. I think it is an informative and well-written piece and appreciate the frank feedback from this publisher.
This essay provides some details into how the book is structured, its tone, and provides some great insights and future actions for the author to consider. 
******
Section 1: Title
The title The Ultimate To Do List When Your Loved One Dies suits your book well. It conveys the theme and genre of your book immediately and clearly to authors while also capturing keywords that are likely utilized by men and women in this situation (like "to do"). You might consider reworking the subtitle to expand even more on this keyword advantage. A phrase that mentions the terms "funeral planning," "money-saving," or "for beginners" could potentially be listed in many searches. If interested, you might also consider expanding the "Ultimate To Do List" concept into a brand and other books (ie: "The Ultimate To Do List: To Get Into College") as this type of piece would be useful in many different avenues of life.
Section 2: Structure
You've done a great job of structuring The Ultimate To Do List When Your Loved One Dies in a logical and cogent manner. The book is clear and easy to read. Readers aren't weighed down with gratuitous anecdotes, and the simplified, chronological structure of the piece is refreshing and necessary.
In a future editorial review of the manuscript, be sure to pay close attention to the structure of the individual chapters. Certain sections may be shifted to better accommodate certain needs of the reader. For example, the eulogy chapter may be more logically situated before or within the memorial service chapter since many readers will be going through the book chronologically.
It may also make sense to embed some of the tables currently at the back within the book, or to make mention of them. For instance, it would be helpful to reference the "location of important papers" chart in the first chapter as readers will be collecting and filing their loved one's documents. Noting possibilities for these types of references throughout the book will allow your readers to take full advantage of your helpful advice and document aides.
Section 3: Style
Your tone throughout The Ultimate To Do List When Your Loved One Dies is direct and straightforward. The no-nonsense approach to funeral planning allows readers to swiftly collect their responsibilities and to-dos. Your authoritative voice is exactly what people are looking for in this situation and it will serve as a comfort throughout the organizational process. Unless you plan to add more text or a narrative structure to the book in the future, your tone is exactly where it should be.
Section 4: Platform/Market
You already have a great initial platform developed from which to market The Ultimate To Do List When Your Loved One Dies. The book website is professional and has many great resources for viewers. The integrated blog also has wealth of useful information; a blog tour or blog swap will be helpful in engaging with other thought leaders in this space and getting your name into these communities online. You might also consider offering individual coaching or consulting services for readers, and focusing on creating workshops based on the book's content. Both of these activities will allow you to capitalize on direct sales.
As your expertise is in the field of business communications, it would also make sense to leverage this professional knowledge in a book. If you have not already done so, publishing a business communications book will build credibility, visibility, and will allow you to build your brand even more powerfully.