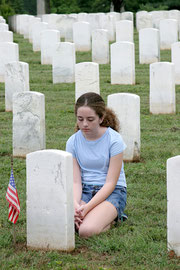 What are the largest expenses in a person's life? A house. An automobile. A wedding. A funeral. Childcare. 
We compare prices for wedding gowns, prices for houses, and certainly prices for automobiles. We shop around for the best place to leave our children. We should also compare prices for our funerals. Now more than ever. 
The headline screams "Funeral costs up 17.5 percent" and cites research form the National Funeral Directors Association that from 2004 to 2009 funeral prices rose more than 17.5 percent with the average price at about $6,550. 
In today's terms, the average is probably closer to $10,000 - $15,000. I speak from experience, and it was based on some very careful and financially-responsible decisions about each item on the "shopping" list. In Japan, where land is a premium, burial plots cost upward to $100,000. Don't wait until you are in a sea of grief to make decisions about your funeral or your loved one's funeral. Research the options. 
Caskets come in all shapes and sizes. Funerals come in all shapes and sizes. Do you want a silk shroud, a bamboo casket, or one made of metal or pine? Do you want a green funeral, or do you want to be cremated? Be clear about what you want before you visit to a funeral home and sign the dotted line.  
Also keep in mind that attitude and service of funeral home directors and staff should always be taken into account in life/death buying decisions. Would you buy a car from a salesperson that treats you badly or responds in such a way that makes you feel uncomfortable? Stay away from any person that leads you to emotional overspending. 
We were blessed to have a remarkable experience with Johnson Funeral Home who gave us caring, personalized service and were patient with us as we moved throught he process.
We all need to be smart about one of the most important events of our lives. Leaving things to chance or not having a plan in place that values your and your loved one's resources is not smart at all.
Funerals and funeral spending are already uncomfortable. Spending more than you should for this life event will definitely leave a bad taste in your mouth. That's not how it's supposed to be. We shouldn't have to deal with financial regret and grief.
Thoughtful decisions prior to when "it" all happens makes for a more peaceful transition. Making any decision under pressure is not healthy for anyone, so be prepared.
We may all be somewhat afraid of death, but we don't need to be afraid of funeral planning.  
Donna Vincent Roa
The Ultimate To Do List When Your Loved One Dies: Before & After the Funeral