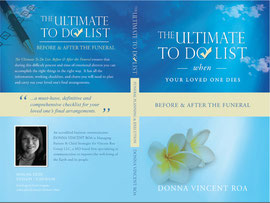 I just realized that I didn't have an example of what the entire cover looks like. I think that when you see all of the elements together as one unit, you can appreciate the care taken to design it.
The cover represents the spirit and the tone of the book and provides a great visual representation of the feeling I had when writing it. This book is about hope, sunshine, calmness, beauty and more.
All of the elements were carefully chosen. The blue color palette matches my Mom's eyes. One day they were dark blue, other days they were light blue or even seafoam green. (Mine are brown, all the time!) 
The flowers, though not Magnolias (the state flower of Louisiana), remind me of them. I think that is why I was drawn to them. They seemed familiar. They are actually plumeria flowers -- the ones that are used to make leis in Hawaii (flower necklaces). They have an amazing aroma and are often used for landscaping and potted plants for indoors. 
This original cover design was done by an amazing, thoughtful, and kind designer. She created a design accurately represents the spirit of the book and captures the color of my mother's eyes. It was a fun process, and I am exceptionally pleased with the final results!
Donna Vincent Roa, Author
The Ultimate To Do List When Your Loved One Dies: Before & After the Funeral